HARVEY CUSHING
From A Surgeon's Journal, 1915-1918

Chapter VII, continued
THE SECOND PHASE: BATTLE OF THE LYS
After a few days of quiet the enemy have opened a new phase of their offensive---this time farther north. Word has finally come through that I am to report to the D.M.S. 1st Army: an urgent telephone to Wallace to learn if I cannot bring a team with me.
Saturday, April 6th
A year ago to-day Congress declared us belligerents on the side of the Allies. We have not yet really met the enemy, though we are likely to do so soon with fragments of the small force now over here---the sooner the better.
Tuesday, April 9. The Casino
The local D.D.M.S. has suddenly decided that he wishes us to care for all head cases in this base area under his jurisdiction. He consequently has objected to our departure, though word came from G.H.Q. for us to proceed on Saturday. Having promised Wallace we would come, a preference was expressed in that direction and we were supposed to leave at nine this morning. It's now 3 p.m. and we have just learned that the 1st Army has been notified that if they want us they must send for us.
The landing platform and reception hail here are full of gassed men---stretcher cases-from Armentières just east of Lillers, where we were supposed to be going. Apparently a heavy bombardment there on Sunday night with an enormous number of gas shells thrown over. This presages unexpected trouble in that supposedly quiet sector---whether something real or only a diversion on the Boche's part, time alone will tell.
Wednesday, April 10th. Lillers
12.30 a.m. It certainly did presage trouble and Cutler and I have run into a second act in the present drama. Our ambulance finally arrived---was sent down with a sick M.O. for transshipment. We came up over the same roads as on January 30---through the Boulogne Forest, its floor now fairly purple with wild flowers---the blackthorn hedges everywhere white with blossoms. We soon began to meet straggling Portuguese---then more Portuguese---their whole corps in fact moving westward---strung out all the way from Aire---very bedraggled and downcast. We did not know until later that they had given way opposite La Bassée and let the Boche through, and that the Liverpools on their left had trained a machine gun on them as they broke.
Finally Lillers, about 6 p.m., where a very tired-looking D.M.S. is found; and under Wallace's guidance we are taken to No. 58 C.C.S., which has long occupied the grounds of a chateau on the edge of the town. The C.O., Col. Martin, has arranged for us, and we get unpacked and set up immediately in the operating hut. I am quartered not far away in the town itself---a ten minutes' walk---in the house of M. le Docteur L. Waloert, ex-Interne des Hôpitaux---a local practitioner.
Dinner with the D.M.S. at his mess in the Château de Philiomel, also on this edge of the town, where were: Wallace; Hume, the new Medical Consultant, who must have taken Jack McCrae's place; Col. Kennedy Shaw, a remount officer (taken in because his mess in the town was recently blown up by a bomb); Davidson the A.D.M.S., i.e., "Davy" of Vimy Ridge recollection; Parkinson, A.D.M.S. Sanitation; and two young D.A.D.M.S. people, Capts. Young and Gibb. The news was very disturbing. An attack in force this morning taking advantage of a thick mist---Portuguese bolted---the Boche came through---the 51st Scottish (Seaforths, Camerons, Black Watch, etc.), brought up here from the Somme supposedly for a rest, was thrown into the gap---the line to-night, over a twelve-mile front, has been driven back for a depth of five miles---possibly to Estaires and Sailly-sur-la-Lys; at the two ends Givenchy and Armentières are still holding. Very little news, however, is attainable. No one really knows where any units are actually located. Bethune badly shelled ---also Aire 10 miles from the line---we must have seen one drop there this afternoon as we came through, though we did not realize the cause of the commotion which we saw. One can't hear a shell explode when traveling in an ambulance over pavés.

Map from Land & Water Showing German Advances in the Valley of the Lys, Tuesday, April 9th, to Saturday, April 13th. Note That This Offensive Was Directed against Important Railway Centres at Hazebrouck and Béthune
The operating hut was closed for an hour to catch up on supplies, and we finally got to work at 9 p.m. They've had an arduous day of it and the place was still full of wounded when we knocked off half an hour ago. There is a heavy continuous bombardment.
Later, April 10th. Getting acquainted with C.C.S. No. 58. An old French H.O.E. layout with ridged Faveron and round-roofed Tarrant huts of generous size---big enough to hold the ordinary narrow British Nisson and room to spare. Seven such hutted wards to hold 26 beds and space for 1000 under canvas. The hospital huts not particularly well concentrated but the whole encampment is made very attractive with flower beds, which only the French seem disposed to lay out when time permits. All this in the Park, outside the walls of the château grounds proper. We alternate with three other C.C.S.'s in the First Corps: No. 23 at Lozinghem; No. 18 just set up under canvas alongside of us; and No. 4 Canadian at Pernes. No. 58 had three surgical teams of its own and five new ones are expected. It was providential, our getting here first scarcely aware that this new offensive was on. Yesterday 1600 cases were passed through and 600 were evacuated during the night, many of course surgically untreated---a few Portuguese but mostly Scottish of the 51st Division.
Still later, Apr. 10th. I've stood---on my crippled arches---the day's work better than I anticipated. The cases mostly Jocks, but also Tommies and quite a number of civilian wounded. Women and children lie in the Resuscitation Ward on stretchers alongside the grimy soldiers. At times such as this, how futile all one's fine talk about wastage and primary closure of wounds really seems! But these young surgeons of the C.C.S. type have learned their jobs well and do the finest sort of emergency surgical work for chest, knees, and abdominal wounds.
* * * *
The general situation is far from reassuring. The Boches across the Lys, north of Armentières, are in "Plug-street" and have a footing on Messines Ridge. At one time they got across the Lawe at Lestrem, but were finally ousted. Armentières seriously threatened, but it's an empty shell at best.
Thursday, April 11. Lillers
7.30 a.m. L/Cpl. Copstick is the most mild-mannered of men for the heavy artillery. He is a car conductor in Lancashire, peace times, and probably some lady has his job, which he will certainly never be able to get back by any force of character---but he makes a fair batman. His name is too much for me when he slinks in, and I can think of nothing but Chopsticks when I ask him what's the weather and if he will please close the window. "Very fine, sir, but cloudy and---promises to rain." Moreover he seems unable to get hot water, for which at the moment I am waiting. There must be good reasons for the delay as the proprietor of this maison may be hesitating to give him any at all; he informs me that there are signs of trouble downstairs because my bath went through the floor yesterday morning and ruined the ceiling of the parlor. The Anglo-Saxon and his bath---so unnecessary to bathe thus---why more than hands and feet? My folding canvas tub after ten months' service suddenly sprang a leak at every pore, I think because Élise made frantic efforts to dry it before our hurried departure on Tuesday and probably put it in her gas stove. How I shall face the family belowstairs I don't know---but here comes Copstick with boots and shaving water.
11 p.m. We certainly have invited ourselves into a warm corner. The day crowded with work of all kinds, though only an occasional cranial operation. The Boche got a direct hit on a troop train and several lorries full of wounded were brought in---many of them dead on reaching us. Meanwhile the flow of men from the retreating Front keeps up. They shoved in on us, just before eight o'clock, a man bleeding from a gluteal artery, so we were an hour late for the mess; and while partaking of a pick-up meal in the château all the lights went out---but no Taubes have come over.
The last time a Taube came---not long before our arrival---he got an ammunition train or rather a large cache of alcohol near by, which set the train on fire 32 trucks of 9.5's, and as the siding is only a hundred yards from No. 58, things were lively for a while, unexploded as well as exploded shells dropping all over the place, and one sister was killed. No. 18 started to move away to-day and orders are issued for us to keep no lying cases---all to be sent on no matter what their condition. Most of the M.O.'s newly gathered here are from the Somme and have had recent experiences of similar sort in the area whence they came---mostly unpleasant. We left the night teams working by candles and torches---power shut off owing to the alerte.
This afternoon, refugees from Calonne-sur-la-Lys, this side of Merville, about six miles away, began to pour through---old men carrying packs, women pulling carts, and children pushing baby carriages. Where were they going? They didn't know---just away, that's all. When I groped my way back to this billet I found a covered cart standing in the court and the old French doctor was anxiously sitting up---tried to press coffee on me and what was the news? Are they coming and how near?
He has gathered his movable possessions together, pour prudence, and his wife, with two little girls---grandchildren they must be---and the two dogs are ready to move at a moment's notice. Their first move, I may add. The Boche has never before been in Lillers. He has heard that two French divisions have been sent up here. Every little will help, certainly, for the Tommy has been badly cut up. Meanwhile the firing is getting uncomfortably close. Me for bed, nevertheless---anything better than an air raid.
Friday, April 12th
7 a.m. "They put a 17-inch shell into the T.D.O. just in front of Lagore and got most of the h'officers, and the Boche has five of our six batteries." This from Copstick of B. 276 who says he can't get any hot water---there isn't any fire. He's now gone for cold, but the blinds open on to a fine sunny morning with the birds gayly chirping in the budding horse-chestnuts of M. le Docteur's little front yard. A toothache and need of dental care brought Copstick to No. 58 C.C.S. for renovation a day or two before this show opened; and he has just seen one of the survivors of his battery go by in an ambulance: hence his news of the shell landing in the Telephonists' Dugout.
Late last night just before coming home they were evacuating wounded to the train, and two bearers were carrying out a pretty little French girl of about nine summers who will never walk again without crutches, as she's lost a leg at the hip. Behind her was her mother with her arm in a sling. Slumping along in the procession after them were two bearers carrying what appeared to be a stretcher loaded with folded blankets, out of which suddenly peeped a bright little face about as big as a fist---the girl's tiny brother---unwounded. I had seen him during the day playing about the camp with a dirty fox-terrier puppy and making friends with the bearers. They were smuggling him onto the train as a lying case.
Between operations at No. 58. There's a Tommy achondroplastic dwarf attached here---a great pet---too small to carry a stretcher of course, but an indefatigable worker at odd jobs. It's pitiful to see the Jocks come in---a kilt is picturesque but unserviceable. Many a Jock has been inextricably caught in the wire by his stout cloth skirt, and even gorse and brambles must be difficult enough for him to negotiate. I've never seen one in service boots. Imagine a pair of "Boots: gum: trench: G.S." under kilts! They wear a little gaiter over the top of their shoes, coming up just above the ankle---then stockings---then nothingness.
Later. Yesterday the Boches pushed on well toward Bailleul---some seven miles. Armentières was evacuated, being "full of gas." Estaires and Steenwerck taken and the enemy in the low country south of Messines and Mt. Kemmel. The Germans report Messines and Hollebeke captured Wednesday. They were long checked by the 9th Division, which, like the 55th, had just come up after participating in the Somme retreat.
10.30 p.m. In Gask's billet at Longuenesse in the outskirts of St. Omer near No. 7 General---and for the past hour sitting in the cellar with some French peasants, two children, and a pile of potatoes, while a Boche raider dropped about a dozen eggs unpleasantly near and Archies were going off furiously. We've jumped from the frying pan to the fire. Nor is this exactly the case, for it's very cold---particularly in a French cellar in April; but while it lasted I didn't quite feel like coming up to this level even for my overcoat.
It's been a lively day with flyable weather for a change and there's been plenty of both---change and flying. An early start with a lot of wounded---more Jocks from the 51st Division. A full morning's work. Then word came that we must evacuate everything---abandon the place in fact---teams to scatter to Nos. 23 and 22 in Lozinghem, others elsewhere---the lying cases to go first, and by 3 p.m. an M.A.C. convoy takes them away---then the sisters---tents going down---supplies of all sorts packed. Sad to see the lovely old place abandoned, with its gardens laid out for another summer, jonquils in bloom, sweet peas coming up. I shall long remember the wonderful avenue of elms---erect columns of 150 feet or more around the old château, once Haig's headquarters, with its brick-towered portal and patch of marshy woodland behind.
General Thompson came, in the afternoon, very distracted---giving severe orders right and left about trifles---must see about the sisters---what did I want to do---"Anything you wish, sir." Then I must come with him. The hard-pressed C.O. of No. 18 gets a scolding---only here since Monday and now everything again on the ground---lorries waiting to be loaded---but with no men in sight---"Why not?"---"Giving them two hours' rest, sir, as no sleep for four days."
Thus we fume away---to his French teacher in Lillers---the town packed with réfugiés streaming through-paraphernalia of war, with dusty and tired troops being herded by red-capped military police---and to the mêlée the inhabitants of Lillers are being added as they dump such of their possessions as they hope to carry away in front of their shops and houses. The "French teacher" has two old aunts aged 89 and 90!---he must send an ambulance for them, etc., etc.
So finally to the Château de Philiomel, where G.H.Q. 2nd Échelon gets on the line with orders that our team is to be sent to No. 7 General in St. Omer. Since this is not in the 1st Army area the D.M.S. expresses himself as "fed up" and wishes he were lying on the grass at Lord's watching a cricket match. Insists that before he leaves we must take a last walk in the garden, where are strawberries and a pond with goldfish and wild geese---and I with difficulty get away.
Back at No. 58 things have been moving fast. Most of the officers gone---but still possible to get tea, during which I learn that the Boche is about five miles away; and I may add that the D.M.S. in the course of our afternoon's meanderings casually produced from his capacious pocket a large revolver---no getting taken prisoner a second time---not he---there may be Uhlans about any minute. But there's no use getting the wind up even with an occasional burst of machine-gun fire all too near; and we wait around till about 6.30, when an ambulance appears for us.
The ride was an exciting one---St. Hilaire-Norrent-Aire-Arques-Longuenesse. The dusty road simply packed with lorries and Australians who have come in, and artillery limbers, and kitchens, and staff officers scurrying by, and devil dispatch-riders on motor cycles getting through somehow at breakneck pace. A beautiful cool evening with glowing sunset. silhouetting on the low ridge to the west of us a long line of figures bent under packs and bundles---old men, women, and children---no room for them on the road. So to No. 7 General in the old, monastery of Malassise, where a welcome by Col. Waring and by Gask, who feeds at their mess---and so do we.
Merville taken; Bailleul threatened. Over 110 German divisions so far identified since March 21st, and over 40 of them thrown in more than once. They claim 20,000 prisoners.
Sunday, April the 14th
Overcast, with a chill penetrating wind, November-like, and as most of the glass has been blown out of the windows of this isolated farmhouse on the road through Longuenesse, one has to keep wrapped up. Gask and I walked in to St. Omer after dinner last night to see Col. Shine and ask about our movements---whether our team had better stay with No. 7 or go on to Boulogne, where there is doubtless much work at present. He said "stay." Lady Victoria Someone-or-other was there, boss of the local V.A.D.G.S.'s, which is a new brand to me (Volunteer Aid Detachment General Service)---women who are doing all sorts of work from driving ambulances to waiting on table at No. 7 General. She had it that three American divisions were moving into this area, also French cavalry and a French Army.

Showing Allied Ground Lost in the First
(March 21-28) and Second (April 9-18) Phases
of the German Spring Offensive
All the serious cases retained at No. 7 General---femurs, chest and head cases were evacuated yesterday afternoon by ambulances to St. Omer and thence by canal barge to Calais. No further cases to be admitted. No. 7 General to move and a C.C.S. to come in. Meanwhile the Christian Brothers and the Father Superior, who look as though they had stepped out of a mediæval picture, continue with their flower beds, planting and trimming the crucified fruit trees which encircle the huge garden behind the main building. Gask and I have decided to become experimental agriculturists after the war.
9 p.m. A disquieting day with no surgical work to take our minds off what is unquestionably a critical situation. They are packing up all the transportable property here and estimate 250 tons, which will require 300 lorries for the movable equipment of this single general hospital! Think of what it would take to evacuate Boulogne! Had the cards fallen differently last autumn, Base Hospital No. 5 might well enough have been set up in this area to share in the predicament that No. 7 General is facing. The place will probably be taken over by two C.C.S.'s, for there is a fine row of new Nissons and an operating suite as yet unused and suitable for casualty purposes.
Wallace and Gen. Thompson stopped here late for lunch---only time for a cup of tea---busy placing C.C.S.'s, which seem to be scattered all over the lot. The D.G. and Black hereabouts also; and late this afternoon Soltau, looking worn-out, came in to Gask's billet for a moment. Apparently only two clearing stations are left behind the 2nd Army, one of them still at Proven---Poperinghe practically evacuated---also the hospitals at Rémy. He himself at Blendecques, south of here.
In the afternoon to St. Omer again along the Boulevard Vauban which overlooks what remains of the old fortifications, now a botanical garden and park with a bastion in which is a large casemate capable of holding many hundred people, used at present as an abri for N15. 58 (Scottish) near by. No. 58 is laid out on the old champ de manoeuvre of the town, where are many jovial Scots who think they've suffered badly. Col. Grahame, C.O., and a Major Scot-Skirving, most voluble. The place lies near the motor-lorry park which the Hun was after Friday night. Six months ago they were badly bombed, so that a large part of their compound was given over to a P.O.W. camp, and on Friday five big ones were dropped within 50 yards of the officers' quarters. We saw the craters---a huge elm was largely engulfed in one.
McGowan, the pathologist, took me over by the fish market and down the rue de Calais, where other bombs had fallen---direct hits on houses which were completely collapsed, with tumbled beds hanging by their hind legs from shelves of upper floors-the beds not occupied of course, for the people were in the cellars, in one of which eight habitants were entombed---so, at least, I 'm informed by a woman standing in the doorway of the windowless house just opposite---"C'est abominable, cette guerre."
Haig's most disquieting Order to the Army appears in to-day's---that is, yesterday's---papers. It ends as follows:
With our backs to the wall, and believing in the justice of our cause, each one of us must fight on to the end. The safety of our homes and the freedom of mankind depend alike upon the conduct of every one at this critical moment.
11 p.m. The officers of No. 7 General are sitting about reading, writing, playing bridge, and waiting, while an old boy is strumming the piano. The last news comes from the X-ray man of No. 10 C.C.S., formerly of Rémy, who is looking for his unit. He says the Ypres salient has been abandoned back to the canal. If this be so, all our last summer's work for the ridges---Messines and Passchendaele---has gone by the board in the space of six days.
Monday, April 15
Unseasonably cold, with a high wind blowing from the north. An occasional plane struggles against it, but not many. This standing by with nothing to do but await orders is the very devil. It affects everyone alike, for we know that somewhere there is overwhelming work under which surgical teams are struggling. Outwardly everyone is cheerful and brings in news such as the recapture of Armentières; the Padre even had the line back to Laventie shortly after breakfast---had seen someone who came from there who told someone who told him---quite authentic!
Both the first and this second phase of the German offensive concern chiefly the control of important railways. The object of the first was to put the Boulogne-Amiens-Paris line out of commission and this they have nearly accomplished. In this second phase the territory lies directly opposite Lille, which for the Boches is a great railway junction. On the Allied side, Hazbrouck and Béthune are the essential centres, the loss of which would seriously affect the lines of communication to the British front in the North.
Tuesday, April 16th
a.m. Still cold and overcast. No. 7 nearly evacuated---another 500 cases went down last night. Our orders to proceed to a C.C.S. in the 1st Army have finally come through. We are given an extra nurse, orderly, and a batman! Wagstaffe and a team from here are to go along with us.
10 p.m. No. 4 Canadian C.C.S. Pernes. We got away about 11 and came through Aire, passing French cavalry and reserves which have come up here about 100 miles in five days. The roads full---like the salient last summer at its worst, plus innumerable refugees. Still, many a farmer keeps on with his ploughing, scornful of war while crops are to be considered---even crops which may belong to the Boche to-morrow. On to Lillers, which has become practically deserted in the last three days; and our driver says the foundries near Lillers, where French 75's were made, were evacuated two days ago. Then the St. Pol road past Lozinghem and through several dirty French villages---for mill operatives, I take it---in sight of great pyramidal slag piles; and finally Pernes and our destination.
They've had a busy time, these Canadians who have been pitched here for only a few days, after leaving their comfortable site in Rouitz. Quite short-handed, too, but to-day teams have crowded in---from 44 C.C.S. under Munro; from No. 18 C.C.S., our former neighbor in Lillers, under Blake and Buck; from the 1st Canadian; two teams from 12 Stationary at St. Pol under Maj. Anderson and Capt. Wilson; still another from 7 Can. Stationary under Capt. Fisher; from No. 58 C.C.S. under MacEwan; from No. 7 General at Malassise, Wagstaffe and ourselves. McNee also here looking after the Resuscitation Ward; Walker from Taplow after chests; and in the Unit proper, which hails from Winnipeg, Col. Campbell and nine officers, down to "Jimmy" Crawford, a dentist who is acting as E.M.O. We got to work immediately after lunch and kept on till the night teams came on duty. Six of us are at the moment crowded in a small Nisson preparing to turn in.
Wednesday, April 17th
A very heavy bombardment last night, shaking and rattling our hut---whether the Boche or our own artillery seems uncertain. The night shift---four of them---came in about 4 a.m., everything cleaned up. One of them proceeded promptly to snore---the crescendo kind prohibiting sleep. Then our batman, Pte. F. James Farnen, a one-eyed---and that wild---Lancastrian, unused to the finesse of being a batman, came in heavy-shod and woke us all at 6 a.m. looking for boots---ours---apparently thought they would come to him if he made a noise like another pair. Cutler bounced up and demanded shaving water, and he shortly brought a small, porringer-like affair containing a few ounces. There are doubtless good batmen, but they have been captured by officers longer in the field.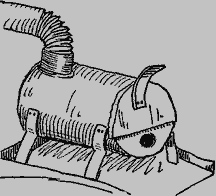 Evening. Cutler and I were permitted to shift our quarters this afternoon to a hut affair with a corrugated iron roof and burlap walls. On the door it says "SPORTS HUT: Closed from 12 to 12.30." This camp, I may add, was a Canadian Corps training ground before No. 4 took it over, and there are relics of their buildings---hence the small Nissons and hence the Sports Hut, about 12 feet square. In its centre sits an extraordinary homemade mongrel of most aggressive aspect---a cross between a stove and a petrol tin---an iron cross. If you try to lift the creature up by his tail you expose his---or her, as the case may be---insides where a fire can be built---or could be if Pte. F.J.F. were properly trained and knew how to procure wood or coal; but others more skilled in the art of "scrounging" and with two eyes seem to have beat him to it. Meanwhile he's scrubbed the floor and left it very wet, in the midst of which the iron pup stands on its tin raft with subnormal temperature.
Life at a C.C.S. alternates between pressure of work and no work at all. Both are killing. We had one hard case to-day----otherwise nothing. We wandered into Pernes this afternoon and found it full of cavalry people---a division of dragoons being quartered hereabouts. There is no news to-day---no papers---not even a communiqué. A wounded German officer in the ward says the war will be over this year---their way. He admits that they have little food except for the army; Lichnowsky merely a puppet---his letter means nothing.
One of the German wounded brought here the other day had a Tommy's uniform on under his own. They have been sending scouting parties out in kilts and in Portuguese uniforms. When they get near enough to be suspected they turn on a machine gun. This may be permissible in war, but it's not nice.
Thursday, April 18th
a.m. We were awakened early by Pte. Farnen falling over the iron pup which, with tail erect, was smoking furiously at both ends---doing everything but bark at Farnen, who was on his knees blowing at its rear elevation. "How's the weather, Farnen?" "Cauld and rough, sorr." This proved to be a good description and we've dressed in it, as usual without shaving water.

Map from Land & Water to Show Position of Critical Attack
on April 18th Threatening Hinges Bridge at Béthune
11 p.m. Work was turned loose on us to-day and it's been difficult to keep up with it. Back again to "shell wounds; multiple; severe." McNee has his hands full in the Resuscitation Ward. No X-ray plant set up as yet. Hence it's difficult to deal properly with the head cases. We are sending on many of the favorable ones, therefore, untouched. Our orderly had finished shaving an unconscious man this afternoon with a huge wound and fungating brain. I thought him too far gone to touch and turned to the more likely case on the next table, a man named Dix---an old soldier 14 years in the army, who came out with the 4th Division. As I was novocainizing his scalp and asking him how he got hit, he said, "We was in a barn, a-holding on, when a heavy landed in on us---that's my pal on the next table." "Your particular pal?" "Yes, sir, my booze pal." There could be no greater degree of intimacy.
To-day's heavy fighting from Givenchy to Robecq was to hold the Hinges bridge, the loss of which would threaten Béthune. Apparently Bailleul, with the Messines and Passchendaele ridges, was taken Tuesday by new German divisions. Yesterday there was a thrust at the Belgian sector. This may mean giving up Calais should it succeed. It looks as though I may have to burn this diary some day. If I do, something better than this iron pup will have to be found for the purpose.
Friday, April 19
11 p.m. Major Moshier is far from having been killed at Passchendaele last November 1st. He's now Lt. Col, and O.C. of No. 11 F.A. with the 4th Canadian Division, for the time being in the Canadian Corps rest camp. He came down here in an ambulance this afternoon and finding us finishing our last case took me back to dinner with his people. That last case, I may add, was a Boche P.O.W. with multiples, including a bad frontal gutter wound which looks as though someone must have made a successful counter-attack, else we should scarcely have been receiving enemy wounded.
After a strenuous day it was good to have a change. It was bitter cold, not to say "rough," in the morning with a heavy frost on the ground and flurries of snow alternating with rain and wind; but by the late afternoon came signs of clearing, the clouds breaking into great cumulous masses with wonderful coloring. Due south-east in the direction of the old Roman road from Boulogne to Arras---through Pernes-Camblain-Chatelain, which even the French now call "Charley Chaplin"----Divion, through a hilly mining country with pyramidal crassiers here and there and unattractive barracks for houses---Houdain, from which one sees the church on the edge of the hill commanding the valley---Ranchicourt and Rebreuve---the old mediæval thirteenth-century moated castle at Oblain where Dumas staged the Three Musketeers---and so to Fresnicourt, where is the rest camp in the grounds surrounding an attractive chateau.
We motored up on the hill from which one can see far down the wonderful Ranchicourt Valley we had traversed-the best view in France according to Moshier. He knows about views as he is accustomed to drive his car frequently the 300 miles into Banff and has crossed "the Great Divide" in it more than once. Particularly beautiful it was to-day looking west with the sun behind a huge isolated cumulus. Then on to Villers-au-Bois, 10 km. due west of Vimy, where we find Col. Peters, once of the Montreal General, now A.D.M.S. of the 4th Canadians.
Very cheering to see these people and to know how strongly they are entrenched. Holding 25 miles of front with their four divisions---and the Boche does not dare touch them---from Arras nearly to La Bassée. The only way the enemy can recapture Vimy is to cut them off by first pushing back the 5th Army on the south and then by breaking through to Hazebrouck and Aire in this new attack.
Here for the first time I saw secondary defenses which are secondary defenses, back ten miles or more, and there are rows of them with pill boxes in between; and nearly every roadside embankment is scarred by the recent passage of tanks like the trail of some antediluvian monster. It would take all the Boche horses and all the Boche men all summer to get through here.
They 're the boys---divisions at full strength, 12,000 in reserve---and they wish the Americans could have been put in alongside of them. No talk from them of falling back---of the end of the war, etc., but rather of their famous box barrage and the tons of cyanide gas projected into Lens on the pressure of a single electric button.
Saturday, the 20th
A thick crust of ice on our waste bucket this morning. Private Farnen has been removed from our midst---also the iron pup. It probably followed him. He informed us yesterday that he came from St. Helens. "Didna we kno' where was?" This with a monocular expression of astonishment. "It's where they makes Beecham's Pills."
10.30 p.m. A good day's work to-day---from seven to seven---much easier than the 16 hours on and eight off during the No. 46 days. More Boche prisoners this afternoon with heads---they seem to be rather fed up with the war, which is encouraging.
Dinner in Pernes with a Captain Lance of the Imperial Corps Training School. A very formal mess and I was perforce late, which was not a good beginning; had no slacks, which was poor; wore a belt, which was worse; and took no alcohol---incomprensible! We parted early.
Sunday, Apr. 21st
Awakened by a heavy barrage---almost like the drum fire of last summer, but it was of short duration. A beautiful quiet sunny Sunday. A walk with the C.O. after lunch through the woods---indescribably lovely. Spring much later here than near the coast---trees just coming into bud---blackthorn not fully blossomed out, but the ivy- and myrtle-covered floor of the wood was brilliant with a profusion of wild flowers---star anemones big as a shilling, periwinkles, cowslips, buttercups and dwarf daisies, wild hyacinths, and violets everywhere. On to the top of the ridge to the north of us where the training school has its trenches and exercising ground. A wonderful view from the top---of the country northeast and south---Lillers, St. Pol, and to the east all the little mining towns with their red roofs, chimneys, and pyramidal crassiers.
In the late p.m., Col. Peters and Moshier came with an invitation to dine at Aux Rietz corner with Sir David Watson, G.O.C. 4th Canadian Division. This sounds very swell but it was far from being swell---though exciting; for we were underground with occasional arrivées landing above us---but of this later on. In an 8-cylinder Cadillac we retraced our road of Thursday to Fresnicourt, where Moshier was dropped at his field ambulance---then up to the ridge at the N.E. end of the beautiful valley down beyond which the sun was brilliantly drinking water from behind a dark cloud---past the estaminet of the fairies and the large Druid stone table near by---past the headquarters of the 1St Army Commander, ditto of the Canadian Corps Commander, and soon the wooded top of the Lorette, from which the barren crest of Vimy Ridge came into view---and finally to the famous crossroads at La Targette.
The Béthune-Arras road was much as it appeared last June, with its countless dugouts. Peters asked if I cared to wash and if so would I go with him to his billet; and to my amazement he leads me down a breakneck flight of steps to a huge cave 60 feet underground where several hundred troops are quartered and where the officers have little curtained-off cubicles-as primitive lodgings as I have seen, but comfortable enough---and, of chief importance, safe.
At the General's mess were Col. Panet, a British General Staff officer, attached; Col. Marshall, A.A. and Q.M.G.; Maj. Gavin, the one-time owner of Raeburn's "The McNab," recently sold for 30,000 pounds; Cap. MacLeod Moore, the General's A.D.C., whom I took one day to Revere's grave in Dosinghem, and Peters, the divisional A.D.M.S. They were most cordial and pleasant; and after exhausting that perennial topic of conversation, the louse, I learned that they are giving the Boche an unpleasant time, for Sir David seems to believe in an offensive defensive. On the preceding night, for example, they had projected 600 tons of gas shells into the enemy's back areas---or was it 6000 tons? I'm not good at remembering figures.
So home by moonlight-with Boche raiders about, through dark villages, and I find Captain Fisher and Anderson operating on an emergency---an artillery sergeant who got someone's knee in the pit of his stomach during a Sunday afternoon football contest in the neighboring field. He had finished the game, gone to his billet, and had tea before he gave in. There was a rupture two inches long in the lower jejunum.
Monday, Apr. 22nd ;
Very busy day---our "take in." No news. We're likely to have much work to-morrow judging by the bombardment, which has been particularly loud and continuous all the evening. Raining.
The "Wireless Bulletin" issued from the Canadian Corps Signal Office at 2 a.m. daily quotes the German wireless of yesterday afternoon to this effect:
Between the Meuse and Moselle, Lower Saxon battalions attacked the Americans in their trenches near Seicheprey. They stormed the position and broke into the enemy's lines to a depth of two kilometres. Weak counter-attacks from the enemy were driven off. Stronger efforts to attack were repulsed. In the night our assault troops, after destroying the enemy's positions, returned to their own lines. The losses of the Americans are extremely high, 183 men, including 5 officers, were taken prisoners, and 25 machine guns were captured.
Not much, this, other than that we've at last been heard from; and this affair will probably be headlined at home. There has been a comparative lull in the fighting since Thursday, when Béthune was seriously threatened.
Tuesday the 23rd
Having finished our last 200 by 3 p.m., with Captains Walker and Cotton we walked over to Bours, some 5 km. to the south of here along the St. Pol road, to see the old feudal donjon there---the one remaining tower of the four which once stood at the corners of the enclosure.
We were particularly interested in the caretaker, a blind tabetic who has lived within for 43 years. He told his little tale and showed us the oubliette, a hole in the dungeon floor with a well which led down 30 metres to water; also the souricière, and it was some time before we understood. There was a small stone vestibule in the wall just within the point at which the portcullis was raised. An unwelcome guest, entering there to knock at the castle door, could be trapped by raising the draw. This small vestibule, though within the walls, had no ceiling, and from above with great convenience horrible things could be dropped on the guest's head---boiling oil, cailloux, and such. This the old man told with glee as he felt of the walls and rocked about in his efforts to balance on his wobbly legs.
---