CHAPTER VI
THE SPECTACLE IN THE FROZEN LAKE
We entered a small room, the greater portion of which seemed occupied by a great stove built of stone and mortar, a crude yet efficient affair, with a huge open grate over which could be seen glowing embers, and a great oven above of masonry.
Seated in front of the fire, in the dim light of a tallow candle, was a very old peasant woman, with several dirty children pulling at her dress.
"This house has been commandeered," the Colonel explained to me. "We have taken over the other room and the peasants occupy this one."
I looked around for a bed, but the only furniture was a chair, a rough table, a bench, and the stove.
"You're looking for the bed?" the Colonel asked, sensing my question. "That's on top of the stove. Russian peasants always sleep that way in winter." Sure enough, on top of the masonry oven, just under the low ceiling, was a pile of dirty bedclothes.
"How many live here?" I asked.
"Four. This old woman, the two children---her grandchildren---and their mother."
We passed into the next room. It was larger and lighted by a lamp. A rough pine table with benches around it, and two cots, with a chair or so, comprised the furniture. A young man arose from the table, laying down a book, as we entered.
"Metia!" exclaimed the Colonel, addressing him, "I have brought an American doctor to work with you. Now you can improve your English!"
Metia was a short, chubby fellow, with a round smiling face, long black hair, greatly disordered, and honest brown eyes, like those of a faithful dog.
He came over smiling and shook hands with me.
"I take great pleasure to see you," he said with a quaint accent.
"Dimitre Paulovitch is one of my best students," said the Colonel. "He was in his third year at the Medical College at Saratoff when war broke out. He has been with me ever since. He will work with you. We call him Metia for short."
Metia then explained that he was in charge of the base for the present and had been going over the medical, surgical, and reserve supplies---taking stock, as it were. The Colonel's aids were away buying forage and supplies. The other two students were in the advance dressing station.
"Everything has been rather quiet," he said. "Not very much work. Just sitting in the trenches ---a little sniping and artillery 'straffing' every day to vary the monotony."
He went out to send a wagon for our baggage and to hurry up dinner.
"A great boy that," said the Colonel. "As brave as a lion. He has received the medal of St. George but he never wears it except when he must---when we are inspected or at official dinners. You will find him a great help."
When Metia returned he said that dinner would follow in a few minutes. It consisted of a young sucking pig, brown and crisp, with cassia. Cassia is steamed whole buckwheat, the outer husk being removed, and is one of the staples in Russia, taking the place of potatoes. The soldiers receive it at least once every day. Then we had kessil---a gelatinous substance made from potato flour and water and the extract of a red berry resembling the cranberry. It makes a delicious dessert.
After dinner our baggage came. Ivan made up my cot beside the Colonel's and Metia's and we all turned in.
As I lay there in the darkness, I could hear the occasional low rumble of artillery, which caused the windows of the room to rattle.
The next morning the Colonel announced that we would have to call on the Commander of the Corps.
The old victoria was at the door and we drove off toward the staff, which was located in a big manor house. This house had been deserted by its owners when the tide of battle had ebbed and flowed in this section. A month or two before, the Germans had followed up the Russians in their retreat from Warsaw right to this very locality, but later they had fallen back to their present positions which they had prepared.
We passed two lakes around which desperate hand to hand fighting had taken place only a few weeks previously. The fields and meadows near the lakes were scarred by fresh lines of yellow earth marking hastily constructed trenches, while shell-holes pitted the road on which we were travelling.
The old manor house, a huge white affair of stone and plaster, was situated in a beautiful park. For some reason it had not suffered from artillery fire.
As we drove up to the great door, two sentries with fixed bayonets came to attention. Inside, our coats and hats were taken by an orderly. Another led the way up a broad staircase through a bare hallway, the naked boards resounding under our feet, to a large room with many windows. A log fire was burning in an open fireplace and the white walls were covered with many-colored maps. A telephone switchboard and telegraph instrument on a table at which sat three operators, gave the room a businesslike appearance.
A tall officer, who had been seated at a table in the center of the room, rose as we entered and greeted us.
Kalpaschnecoff introduced us and asked in Russian to see the Commander of the Corps. The officer sent an orderly for the General, and in the meantime the chief of staff, a short, thick-set man of fifty-five, resplendent with crosses and medals, with a beetling forehead rising dome-like to a perfectly bald head and with a hawk-like nose, came in and was introduced. He spoke a little English and welcomed me quite cordially.
The door opened and General Pleschcoff, commander of the First Siberian Army Corps, entered. Kalpaschnecoff had telegraphed him I was coming and as he advanced his face was wreathed in a smile and his little black eyes twinkled in a most friendly manner.
He embraced Kalpaschnecoff, kissing him on both cheeks in real Russian fashion, and then shook hands with me. lie made a cordial little speech in Russian, speaking no English, which the Colonel translated.
"Come, be seated. Have a cigarette? Orderly, the samovar!" he ordered, leading the way to a table and offering his large silver cigarette case covered with many monograms in gold.
He was the most kindly, lovable chap I had met in a long time, and like every one else, as I found, I soon grew to love him.
Sixty-five years old, with the physique of an athlete, of middle height, stubby thick black hair close cropped, his face seamed and lined by outdoor life, immaculate, erect, vigorous, he made an ideal commander.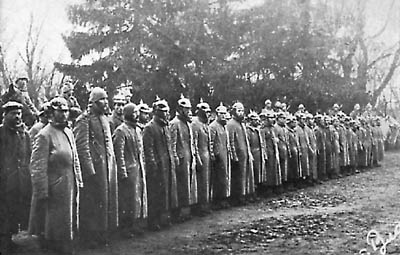 Fig. 4. German officers of a regiment of Prussian guards. The entire regiment was captured by the First Siberian Army Corps.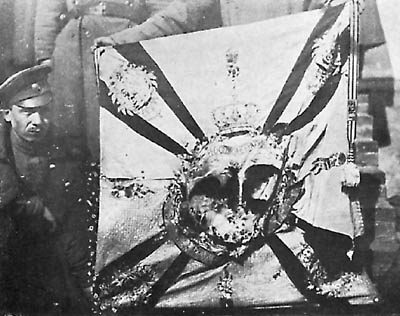 Fig. 5. Battle flag of the captured regiment of Prussian guards. This was an "iron cross regiment," decorated for bravery inaction. Note the striped ribbon on the right of the flag,---the ribbon of the iron cross.
After the interview, on the way back to our base, Kalpaschnecoff told me how brilliantly the General had directed his Siberians through the desperate fighting before Warsaw, at Lodz, Prosnitch, and in a dozen other great battles, how he had arrived at Warsaw with troops fresh from the trenches at Galicia and had led them straight from the trains into the midst of the conflict, turning the tide of the second German drive on Warsaw, saving the city and receiving the personal thanks of the Grand Duke Nicholas.
After lunch, Kalpaschnecoff returned to the staff to transact some business, and Metia and I went out for a walk.
He took me to the trench-scarred field between the two lakes we had passed that morning on our way to the staff. Close observation revealed how desperately the opposing armies had battled. The German trenches, hastily dug, without barbed wire, had been badly battered by the Russian artillery; and pieces of clothing, German helmets, discarded gas masks and empty cartridges littered the field where the fighting had occurred only twelve days before.
We walked down to the nearest lake. The. trenches ran right to its edge. The bank was steep and overhanging. The last few nights had been cold and a clear sheet of ice covered the lake.
Metia slid down the bank to the water's edge and tested the ice gingerly, for the lake was very deep, even dose in shore.
I saw him walking carefully out, looking down through the ice, which was like glass, and then suddenly a piercing cry rang out---a cry of intense horror and fright.
I turned quickly, expecting to see Metia struggling in the water, but instead I saw him standing on the ice, his head and body slightly bent forward, his hands clenched. He was looking down into the depths of the lake, his face blanched and an expression of extreme horror depicted on his features.
What terror lurked beneath the surface?
I stumbled down the bank, bringing down a shower of sod and earth, and walked quickly out to where Metia stood transfixed, not more than twelve feet from shore.
"Mister Grow, look! Look!" he cried, as I reached his side.
I looked at the spot he indicated.
Great God! What a visage gazed up at me from under my feet, scarce two inches of crystal ice separating it from the air! I saw a face, bloated, with dull fishy eyes wide open, staring upward, the teeth exposed grinning, the hands like talons apparently trying to push through the glasslike cover of ice. A gray uniform covered the body, which was that of a German.
Nearby, not six feet away, we found a similar horror, but this one had on the brown uniform of Russia.
The two hideous relics in juxtaposition told their own tragic story.
Twelve days before, these two had locked in mortal combat on that overhanging bank. They had stumbled and plunged into the deep icy water of the lake. With deadly persistence they had fought on, down in the deep water, had come up struggling once, twice, perhaps three or four times, only to disappear again---at last, for good! Their fingers had been unlocked from each other's throats only by the great peace-maker---death; and then, in course of time, when nature had by her chemistry of decomposition caused certain gases to form in their carcasses, they had risen from their bed in the eel-grass to the surface, upon which a thin clear covering of ice had formed in the meantime, and there they were with their faces flattened against its restraining surface like those of children against the glass of a window in which is displayed something they yearn for!
Metia quickly recovered his composure and we started silently back towards the village, and then we sent some of our orderlies out with axes and picks and shovels to release the two bodies and bury them on shore.
---
Chapter Seven: The professor of mathematics.

Contents