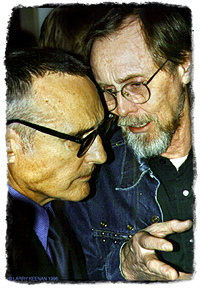 Actor Dennis Hopper and artist Bruce Conner -- both native Kansans -- San Francisco, 1996. Dennis Hopper is from Dodge City, KS, and Bruce Conner is from McPherson and Wichita, KS.

From Keenan's Gallery:
" Dennis Hopper and Bruce Conner are having a discussion at the Paule Anglim Gallery in San Francisco, CA. The event was the opening of Hopper's and Conner's joint show at the California gallery."
© 1996, Larry Keenan. Used with permission.