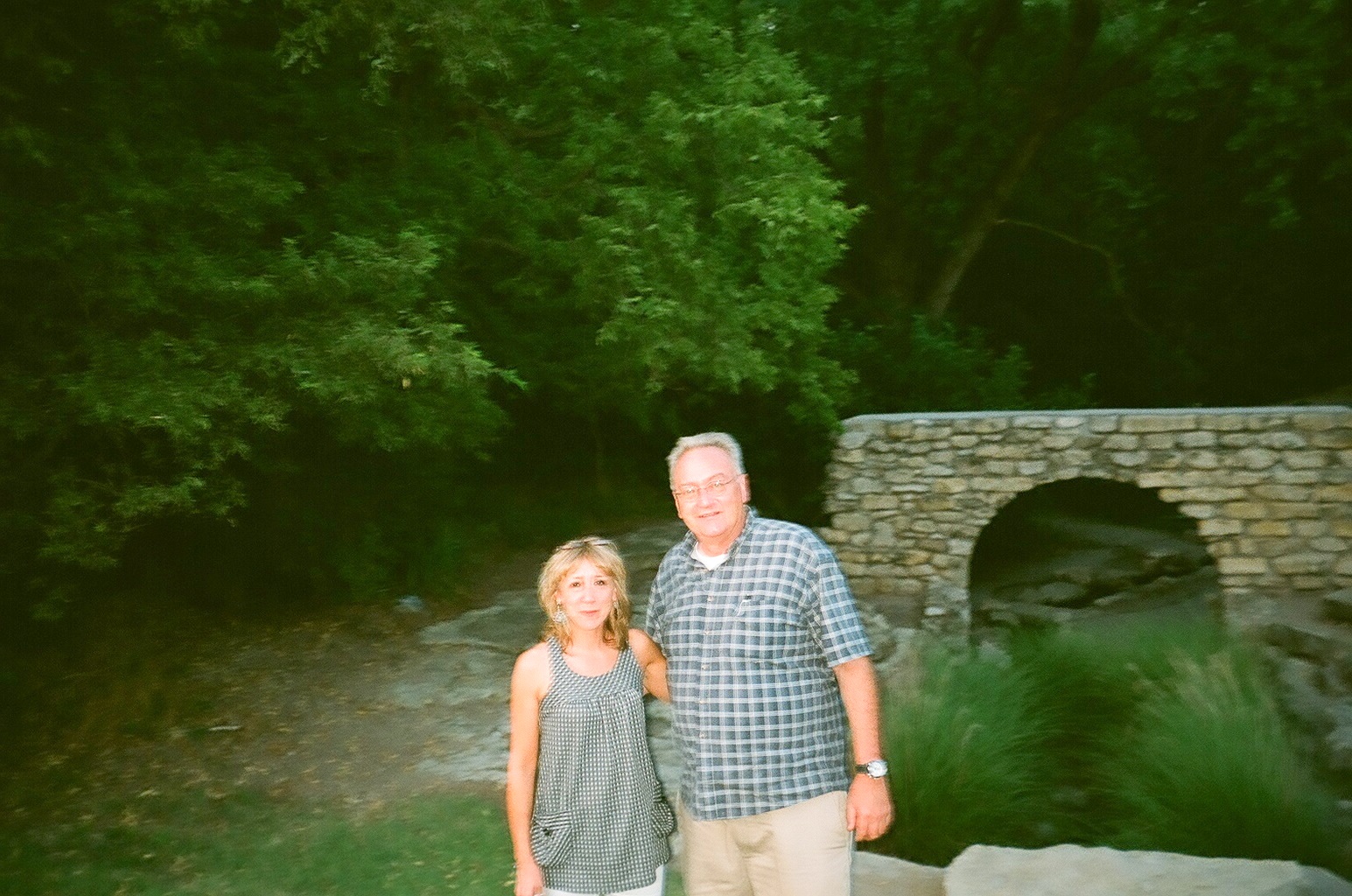 Alison Streiff Scott and George Laughead, Wichita Vortex location;
camera held by Neal Smith; August 2009.
...the movement that became labeled "the Beats" started all over America in the post-WWII 1940s and early 1950's. The end of "the Beats" may have come as early as 1965, but for those of us living in Lawrence, KS, the 1968 closing of the unique Abington Book Shop -- where Charley Plymell, George Kimball and Jim McCrary worked; where Grist magazine and S. Clay Wilson were published -- and its owner John E. Fowler moving, certainly marked one ending point....

That Beat writer William S. Burroughs, the godfather of the Beat Generation, lived long and died in Kansas marks another.

'Anybody can make Paris holy, but I can make Topeka holy.' Jack Kerouac
---
RIP William Burroughs, August 2, 1997: William Burroughs Funeral Banquet, events of August 1997, by George Laughead
---
Beats in Kansas: A Literary Cosmic Vortex Seminar, Wichita Public Library, Wichita, Kansas; April 7, 2019
The heartland has known the Beat writers from cradle to grave -- Michael McClure and Charles Plymell were born in Kansas, and William S. Burroughs spent his last years and died in Lawrence. In between, Allen Ginsberg and Gary Snyder made significant trips to the state. Other Kansas figures include Bruce Connor, Dennis Hopper, James Mechem, Roxie Powell, Jim McCrary, Wayne Propst, Glenn Todd, Alan Russo, John Fowler, Justin Hein, Bob Branaman, Ronald Johnson, and Burroughs' heir James Grauerholz, to name a few. The karmic connection between Beat figures and Kansas influences the literary communities to this day. George Laughead's website Beats In Kansas was launched in 2002. Seminar sponsored by Humanities Kansas.
Kerry Wynn, Washburn University Map of Kansas Literature Project Director, introduced the new map of Kansas authors;
Troy James Weaver, Wichita writer, gave a reading, with brief comments about how the Beats influence his work;
Denise Low, former Poet Laureate Kansas, talked about Beats in Kansas: The Lawrence-Wichita Magnetic Pole
George Laughead, founder Beats in Kansas website, gave a Beat Memoir with Artifacts, Beat life from 1963-2019
Honored guests included Patrick O'Connor and David Quick.
---
Happy Birthday Charley Plymell; April 26, 1935; Holcomb, Kansas

Charley Plymell & Roxie Powell, September 2009; photo by Laki Vazakas, copyright 2009.


Expanded Charles Plymell section:
"Nobody Rides For Free" by Grant Hart (Husker Du), music video by Laki Vazakas, YouTube
Charley Plymell notes: "I first met Grant at B's [William Burroughs] funeral. Charles Henri Ford has a cameo in this and Ray Bremser kissing the bird. Funny story when Angelica, daughter of keyboard jazz great, Paul Bley, who lives here, brought the bird to the party, Claude [Pelieu] said 'I deedn't know whether to say tweet tweet or twat twat!'"
Charles Plymell, from Kansa, Land of the Wind People, autobiographical sketch, 12/2002; Now at Beats In Kansas, 2009
Charles Plymell & Mike Watt, August 2008
"Pat O'Connor playing to my dancing at Wichita Art Museum. The Hotel Eaton is where I took Ginsberg and Robert Frank flew from NY to film us but I've never seen his film. The rest is mostly in Cherry Valley, NY." CP
founded in 1974 by Charles and Pamela Beach Plymell and Josh Norton: poetry and fiction from Herbert Huncke, William Burroughs, Allen Ginsberg, Claude Pelieu and Mary Beach.
("After the famous Gough St. bash where the Beats met the Hippies, Allen [Ginsberg] invited me over for a light dinner. He was just back from India and trying to get Neal [Cassady] settled in...")
---
50th Anniversary of Wichita Vortex by Allen Ginsberg
Wichita Vortex Documentary with Charley Plymell, Bob Branaman, Pat O'Connor, Jim Johnson, Dr. Jay Price and George Laughead; KPTV Wichita PBS Station, 2016, youtube
Wichita Vortex excerpt from The Last of the Moccasins, by Charles Plymell, 1971. Charley was in the van with Ginsberg
Writer poet Charley Plymell, November 8, 2013, New York, with poet photographer Gerard Malanga introducing Charley. Plymell's new book Benzedrine Highways is from Kicks Books (associated with Norton Records) and founder/editor Miriam Linna will be at the event. Plymell understanding of the culture of the times has kept him on the front line. Linna still rocks out as The Cramps drummer, and Gerard just completed a huge European show of his recent photography around the Hudson, NY, area.
---
Ian Harris and the overediting of Burroughs' Nova Trio
---
August 1963, City Lights Bookstore, San Francisco, CA, Photograph by Charley Plymell
---
Nov. 23, 1963, by Allen Ginsberg; (As printed by Charley Plymell in Now Now, 1965; and annotated by him in 2010)
---
Alan Russo Poetry, The Locked Man, 1960; printed by Charles Plymell, Wichita
---
Interview with George Laughead, Beats In Kansas website author, by Michalis Limnios, BLUES @ GREECE 2013
---
Eat Not Thy Mind Charley Plymell (introduction by Mike Watt; edited by Thurston Moore and Byron Coley), reviewed by Paul Hawkins
---
Byron Coley Interview: friend and publisher of Charley Plymell, Coley is major rock writer and works with Thurston Moore (Sonic Youth) on publishing projects. From Perfect Sound Forever on-line magazine, June 2010
---
---
Call Me Burroughs, first a recording, now an authorized book Call Me Burroughs: A Life released 28 Janurary 2014, tied to William's 100th birthday on February 05, 2014. Barry Miles, known as Miles, did the decades old biography on Burroughs (William Burroughs: El Hombre Invisible), after knowing him in London during Miles' infamous gallery years (where John Lennon met Yoko Ono), and Miles' very early beat and punk publishing.
Miles took over a 15-year long project of research by James Grauerholz, Burroughs' adopted son, lover, editor, and estate trustee. It should be a good final review of a man gone since August 02, 1997. Burroughs saw the marketing addiction, corporate scams and government controls in the 1950s and 1960s -- then, as they continue to this day. Miles was also a member of Allen Ginsberg's Committee on Poetry farm near Cherry Valley, NY, and also connected to Andy Warhol circles, and to the Beatles -- their enjoyment of Burroughs help rebirth his availability.
Oddly, the finished book leaves out anything about Burroughs work with poet and publisher Charley Plymell-- as early as 1964 -- or his association for decades with photographer Gerard Malanga -- some iconic photos -- also not in the book except for a passing reference related to Andy Warhol.
Call Me Burroughs: A Life, by Barry Miles; Reviewed in the Guardian, 08 February 2014
Related: William Burroughs' 100th Birthday, John Long, Huck magazine
Malcolm McNeill Interview on William Burroughs, Ah Puch Is Here, Emmy award winning artist McNeill worked with Burroughs in London during early 1970s, on comic series, The Unspeakable Mr. Hart, and graphic novel, Ah Puch Is Here (aka, Ah Pook is Here)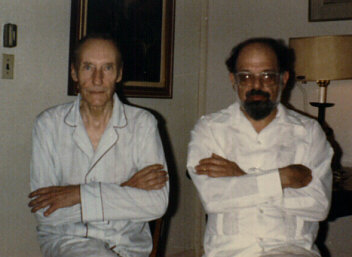 ---

Who the Hell is Robert Ronnie Branaman?: YouTube video by Guy Borges and Patrick Rosenkranz
---
Naked Tea, by Philip Willey; art by Lyle Schultz
---
Hopperized, a tribute to Dodge City, Kansas native Dennis Hopper, by Laki Vazakas. Created in June of 2010. "Little Nemo" Copyright Grant Hart.
---
Chiron Review current issue, back in print, Michael Hathaway, founding Editor, St. John, KS;
---
---
Art Coyote: Robert Branaman, 2008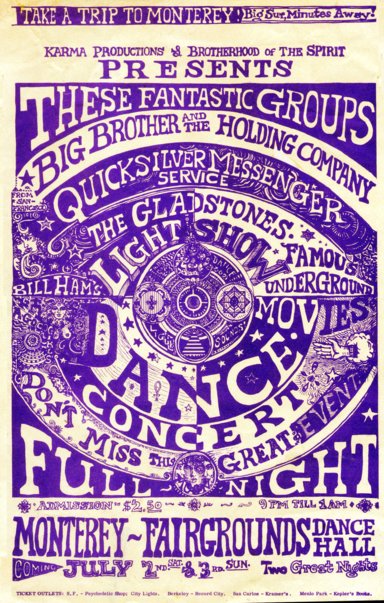 Monterey Dance Concert Poster, Robert Ronnie Branaman, July 1966, Beats In Kansas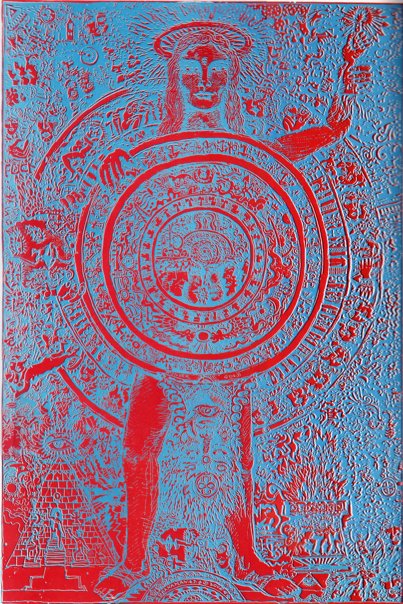 San Francisco Oracle No. 9 backcover by Robert Ronnie Branaman, August 1967 Beats In Kansas
---
Naked Lunch At 50, The Bourgeois Pig - Sue Ashline and the late Dalton Howard provide music; Phil Heying, Jim McCrary, and Karl Gridley; James Grauerholz; and Wayne Propst.
Photograph: Beat writer William S. Burroughs with James Grauerholz, behind Jazzhaus, 1995, by Global Street Photographer Gary Mark Smith
---
S. Clay Wilson's medical crisis -- hard to explain that without his art, the total visual palette used today would be different.
Donations address:
S. Clay Wilson Special Needs Trust [official site]
PO Box 14854
San Francisco CA 94114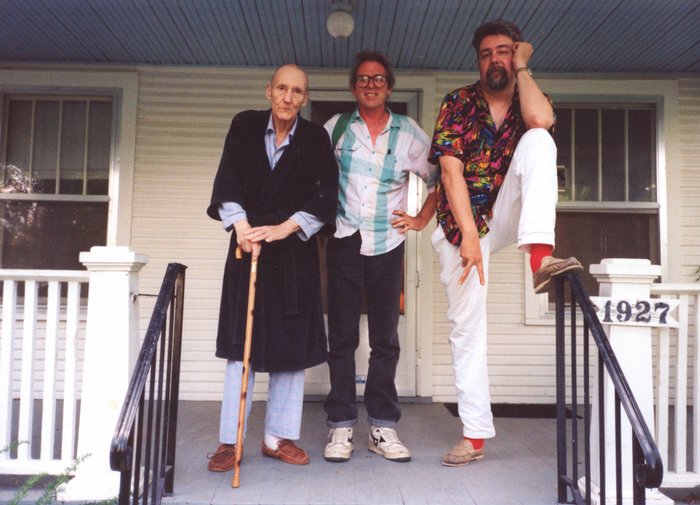 William Burroughs, Jim McCrary, S. Clay Wilson -- on William's porch.
---
Corban LePell, University of Nebraska, 1955-1956; writings and paintings, Artistic Journey by Sylvia Smith Kleindinst
---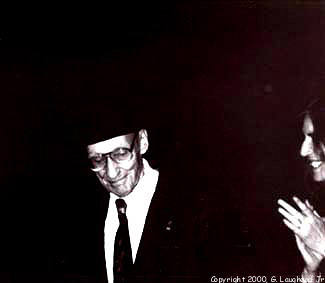 William Burroughs Photo Gallery
February 5, 1914 - August 2, 1997; by George Laughead Beats In Kansas

William S. Burroughs Memorial Service - Eulogy: Remarks on Behalf of the Community, by Professor Tim Miller, KU Religious Studies Dean, 6 August 1997. Posted 5 December 2006, realitystudio.org
The Life of William S. Burroughs: A timeline
Ten Years Gone: Assigning William S. Burroughs a place in local space-time, by Frank Tankard
Bardo in Kansas (for William S. Burroughs) by Patricia Elliott, Lawrence, Literary Kicks
Bardo, or Death Journey, of William Seward Burroughs by Denise Low, Lawrence; Photographs by Jon Blumb
William S. Burroughs, The Biography Project at popsubculture.com
William S. Burroughs, 1914 - 1997, Biography from rotten.com
Burroughs and Dharma, Naropa University talk on William S. Burroughs, by James Grauerholz, 1999 [Burroughs' editor, heir, adopted son]
Ah Puch Is Here Malcolm McNeill & William Burroughs, art work for unpublished image novel by McNeill and William Burroughs [text only version, Ah Pook Is Here]
The Artwork of Burroughs, slideshow interview with Stephen Goddard, Curator, Spencer Museum of Art, KU, Lawrence, KS, by Frank Tankard
Burroughs: The Movie, 1985; Directed by Howard Brookner, revised, 1997
William S. Burroughs: A Man Within -- a movie by Yony Leyser,2009
William S. Burroughs Interview, by Gregory Corso and Allen Ginsberg ; Journal For the Protection of All People 1961
William Burroughs Interview, by Bill Rich, Talk Talk, Lawrence, 1981 [archive.org copy]
William S. Burroughs Papers Guide and Inventory, Ohio State University Libraries, compiled by John M. Bennett, 1999
William S. Burroughs and William S. "Billy" Burroughs, Jr. reading , August 15, 1979, Naropa University Archive
William Burroughs Interview on the Vision of Writing by Paris Review, 1965 [.pdf file]
William S. Burroughs, Photographs by Jon Blumb, Lawrence; Article by Tom King
William S. Burroughs & Allen Ginsberg: "PJ Morning at Learned Street," Lawrence, Kansas; Photograph by Pat Elliott
William S. Burroughs with Cat, Photograph, April 1997, Lawrence, KS; by George Laughead
William S. Burroughs Feeding Fish Photograph, March 1997, Lawrence, KS; by George Laughead
William S. Burroughs and Allen Ginsberg, Last public appearance together, Photograph, Nov. 2, 1996, Lawrence
William Burrough' view from his orgone box with Burroughs' art on his garage windows. Photograph, March 26, 1997, Lawrence
William S. Burroughs & Allen Ginsberg Bibliography UCLA Library Special Collections
William S. Burroughs and Patti Smith, Photograph, Nova Convention Revisited, 1996, Lawrence
Hell, Man, I'm Not Gonna Shoot 'Em Way Out There! article and Burroughs photographs by Jon Blumb
Anne Waldman, Poet; Photograph, at William Burroughs' funeral banquet, James Grauerholz's house, Aug. 6, 1997, Lawrence
William Burroughs Grave and Burroughs Family Plot Bellefontaine Cemetery, St. Louis, MO, Photographs
Calling Dr. Burroughs, William S. Burroughs interview by Victor Bockris, Lawrence, 1990
Robert Creeley: On Burroughs, August 1997, Literary Kicks
Cold War Correspondents: Ginsberg, Kerouac, Cassady, and the Political Economy of Beat Letters, by Dr. Oliver Harris, Dept. of American Studies, Keele University, England [leading eminent Burroughs scholar]
Cutting up the Archive: William Burroughs and the Composite Text, by Dr. Oliver Harris, 25 May 2007, realitystudio.org
The Death of William Burroughs Meditative visit and list of items buried with Burroughs, by poet John Giorno [Burroughs' friend and lover in the mid-1960s]
Everything Lost, the Latin American Notebook of William S. Burroughs: The Inside Story, by Oliver Harris, Dec. 2007, realitystudio.org
King of the Underground: The magic world of William Burroughs, by Victor Bockris, Gadfly, August 1999
The Lost Years of William S. Burroughs: Beats in South Texas, by Rob Johnson, Texas A&M University Press, May 2006 [review on RealityStudio.org]
Open Directory Project: William S. Burroughs [human edited directory of William Burroughs links]
The Pope of Advant Garde, William Burroughs, by Tom Huckabee, Austin Chronicle, 1997
Ports of Entry; William Burroughs and the Arts, Los Angeles County Museum of Art
"Naropa: The Good ol' Days," given by James Grauerholz the early years of Naropa focusing mostly on William Burroughs Sr. and his son Billy Burroughs Jr., Naropa University. June 17. 2003
My Memories of William S. Burroughs, by David Goodrich
"Remembering William Burroughs and Allen Ginsberg," by Jim McCrary, Lawrence, Beats In Kansas [Burroughs friend and office manager. Also, 1960s John Fowler associate. Poet. Posted: 23 September 2002]
"Seven Souls", William Burroughs, More Routines
"Shooting Joan Burroughs" Beat Generation writer William S. Burroughs at home, Lawrence, 1997. UFOs and Joan Vollmer Burroughs death. Article and photographs by George Laughead , Beats In Kansas

Joan Vollmer Burroughs, 1924-1951, Poem by Allen Ginsberg
Joan Vollmer Adams Biography, Literary Kicks
"The Death of Joan Vollmer Burroughs," by James Grauerholz, a 70-page
essay on the question of William Burroughs' motives in shooting Joan Vollmer Burroughs. Massive details on the murder conviction of William Burroughs in Mexico; posted 9 Dec 03, lawrence.com

William S Burroughs and Kurt Cobain: A Dossier, RealityStudio, 18 February 2007 [Cobain, 1967-1994]
"Bill and Tony", William Burroughs and Bryon Gysin, movie clip, circa 1960
"Honesty Marked William's Work," by James Grauerholz, Lawrence Journal-World Letter to Editor
[James Grauerholz is William S. Burroughs' editor, heir, and adopted son.]
Interview with James Grauerholz about Billy Burroughs, Lawrence-Journal World, Sept. 24, 2006
The Burroughs Guy: An interview with James Grauerholz,
William S. Burroughs' editor, heir and adopted son, by Tom King
Brian Cassidy on Early Photos and Collages by Burroughs, realitystudios.org
Malcolm McNeill & William Burroughs, Ah Puch Is Here art work for unpublished image novel, by McNeill and William Burroughs
Artist Malcolm McNeill art work with Beat writer William S. Burroughs, Beats In Kansas
Naked Lunch At 50, Lawrence Celebration, The Bourgeois Pig, August 2009
Birth of The Beats is Born, 64 years later, interview with editor James Grauerholz about And the Hippos Were Boiled in Their Tanks, 2008

Back Beat: by George Kimball; Kerouac and Burroughs's co-authored noir novel, And the Hippos Were Boiled in Their Tanks, resurfaces, Boston Phoenix, 2008
421 W 118th Street - Apt. 62. Building where Joan Vollmer Adams & Edie Parker lived - 1943-44 -- where Jack Kerouac was staying when Lucien Carr came to tell him that he had killed David Kammerer

William S. Burroughs Papers 1951-1972, The New York Public Library [.pdf file]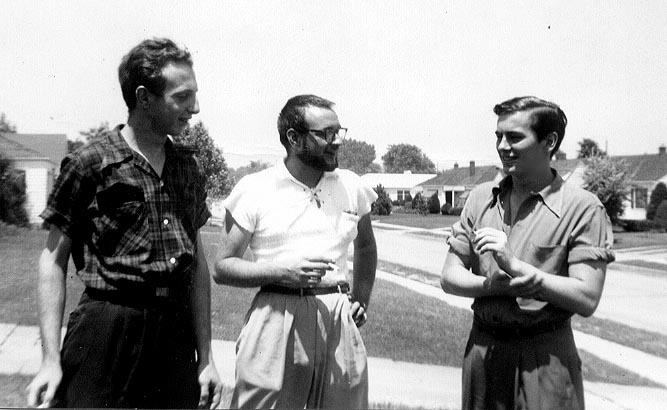 "And that's the Vortex in Toto!"
Bruce Conner, 1987


The Beat Vortex Wichita, 1947-1966, (includes Bruce Conner, Dave Haselwood,
Michael McClure, Charles Plymell, Lee Streiff), by Lee Streiff, Wichita
[The late Lee Streiff, close friend from youth of many other more famous Beats, remained to teach high school English in Wichita, KS. His former students include university deans that stayed in touch. Lee Streiff's influence on his Beat peers -- Conner, Haselwood, McClure -- should be better known. The Wichita Vortex attracted even Beat Generation poet Allen Ginsberg to visit. March 2009 -- archive.org copy, original off-line]
"Chances R"; Gay Wichita in the Beat Era, by Lee Streiff
Flashbacks! Wichita Vortex Era art and photographs [archive.org copy]
MONTAGE Film Series Wichita Film Society by Ben Urish [included Wayne D. Sourbeer, Corban LePell, Charles Plymell]
Dave Haselwood, Lee Streiff and Michael McClure, Photograph, 1951, Wichita, KS [very early Beat Generation photo]
The Wichita Group by James Johnson, 1950s [Bruce Conner, Michael McClure, Enrique Riveron, David Bernard, Rex Hall, Jim Davis, Skip Harwick, Robert Kiskadden]
Wes Race: Cryptic Whalin', Poet and self confessed "Blues Spectatin` Fool" came out of the Wichita Vortex in the 1950s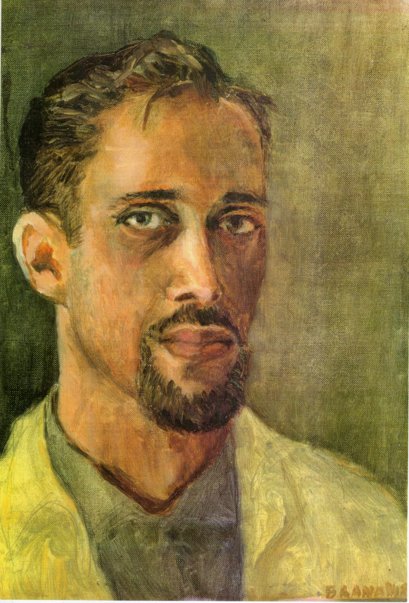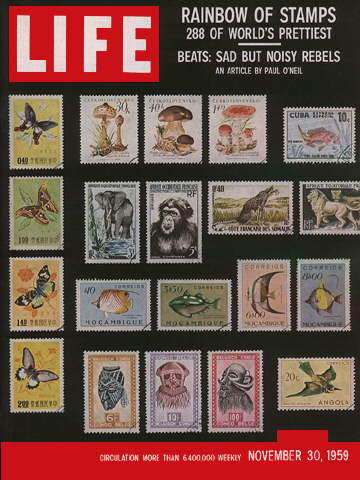 "The Cosmology of Finding Your Spot" Poem by Ed Dorn, 1969, Lawrence, Beats In Kansas [Ed Dorn on beer with Wayne Propst, George Kimball and The Great White Dog of the Rock Chalk Bar.]
Edward Dorn 1929 - 1999, The Independent Buffalo, NY, 1999. Electronic Poetry Center Library [The Gunslinger, a major American long poem, is Dorn's best known work. "...the mission bells are ringing in Kansas."]
Edward Dorn, The Philadelphia Inquirer, 1999. [Ed Dorn and Black Mountain College information.]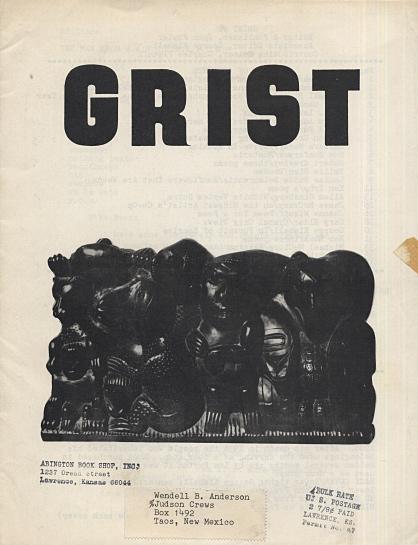 Any reference to the original GRIST would be incomplete if there were no indication of the contribution made by co-editors George Kimball and Charley Plymell. For many issues they were, in fact, the editors, while I acted as publisher (from the thin bankroll of the Abington Book Shop which was too soon exhausted). They sought out authors, gathered material, traveled, wrote letters, made phone calls, cajoled subscribers, designed, laid out, typed, printed, collated, stapled, stamped and delivered. (John Fowler)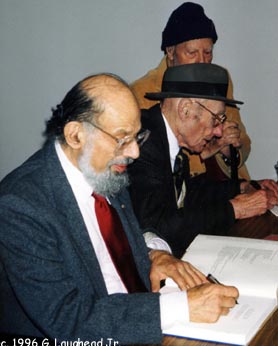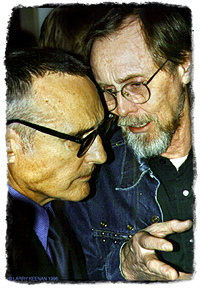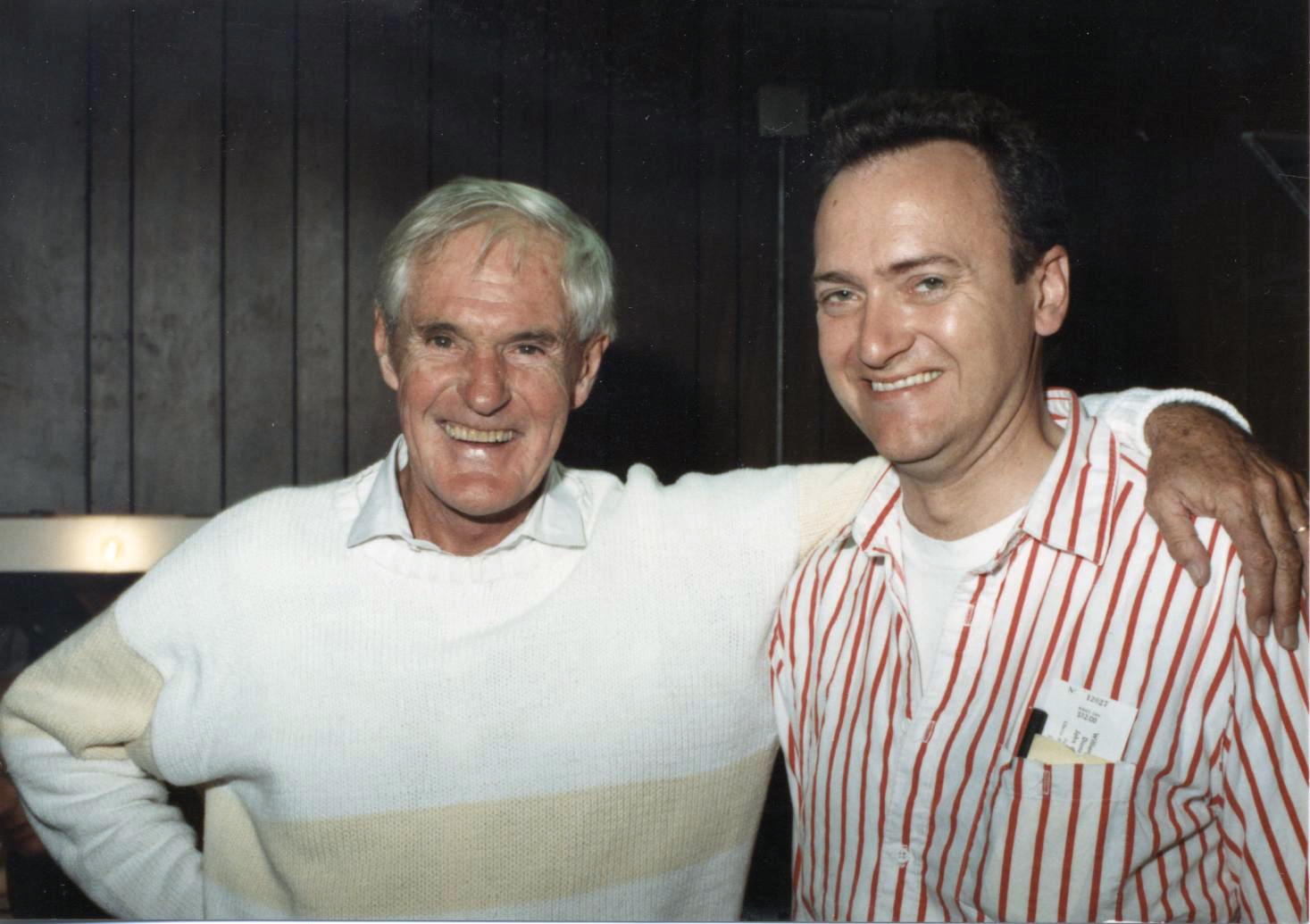 6 POETS AT 6 GALLERY  
--------------------

Philip Lamantia reading mss. of late John
Hoffman-- Mike McClure, Allen Ginsberg,
Gary Snyder & Phil Whalen--all sharp new
straightforward writing-- remarkable coll-
ection of angels on one stage reading
their poetry. No charge, small collection
for wine, and postcards. Charming event.

Kenneth Rexroth, M.C.

8 PM Friday Night October 7, 1955

6 Gallery 3119 Fillmore St.
San Fran
   
6 poets at 6 Gallery, October 7, 1955
[Michael McClure, Philip Lamantia, Allen Ginsberg, Gary Snyder, Phil Whalen, Kenneth Rexroth]
Michael McClure Biography from Literary Kicks
17 Reasons Why......I Love the Work of Michael McClure!, by Steven Fama,2010
What Are Souls ? - An Interview with Michael McClure, by Jack Foley, 2001 [includes discussion of Six Gallery reading, 1955, of "For the Death of 100 Whales"]
Michael McClure: An Anthology of Poems Light and Dust Anthology of Poetry
"Let Us Throw Out the Word Man": Michael McClure's Mammalian Poetics , by Rod Phillips
Michael McClure Home Page from Light and Dust Anthology of Poetry
McClure-Manzarek.com, Michael McClure and Ray Manzarek ("The Doors")
Michael McClure and the late "Freewheelin" Frank Reynolds: A Memorial
Photographs by Larry Keenan
Michael McClure Photographs by Larry Keenan, Beat Generation Gallery
A Mammal Gallery, by Michael McClure [From Scratching the Beat Surface, 1982]
The Poetry Of Michael McClure: a Scientist's View by Francis Crick (discover of DNA in 1953)
The Flame Is Ours, letters of Stan Brakhage and Michael McClure, 1961 - 1978 [.pdf]
Michael McClure: A Selected Bibliography, 1956-2002, empty mirror books
The Beard, Michael McClure play; Jean Harlow and Billy the Kid confront each other in a blue velvet eternity. Iconic play of the 1960s dramatizes the struggle for union between flesh and the spirit.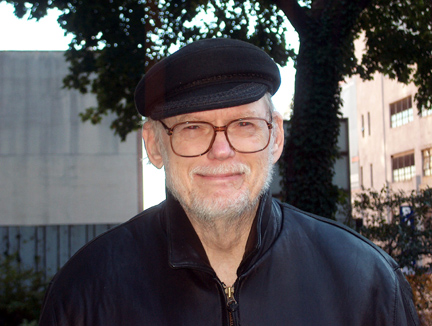 James Mechem Writer, Caprice magazine publisher, New York, NY, 2003;
Interview and photographs by Denise Low, Kansas Poet Laureate, 2007-2009, Lawrence, Beats In Kansas [Beat Generation writer and native Kansan, talks about life at 80]
Moondog, Marysville, New York and Recklinghausen
Charley Plymell, Holcomb, Lawrence and Wichita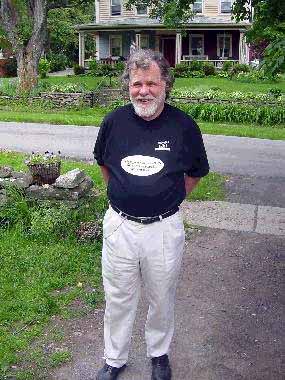 At Burroughs's services, Lawrence, Kansas, August 6, 1997
 
The Muse Is Satiated, well paid
Her Splayed Wand, still sparking
Her Stray Cats all found a pillow
Her Nefarious Boy came home
Osiris, share Thy Vortex Throne
                    
                                                 -Charles Plymell
Lee Streiff: Writer, Poet, Teacher; July 14, 1932 - August 1, 2004 - includes tribute by Tim Miller
Wichita Vortex Lee Streiff's Beat Generation site [large collection of early 1950s photographs; archive.org copy]
Poems by Lee Streiff, from Vortex Press [archive.org copy]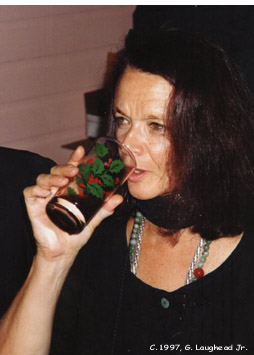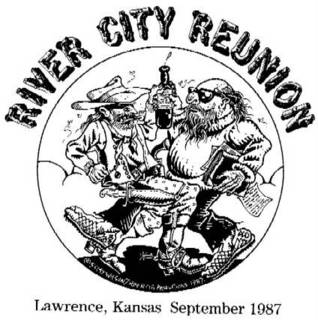 Magazines, Books, General Sites