---
Chances "R" Drawing
by Robert Ronnie Branaman
Evergreen Review Magazine
No. 46, April 1967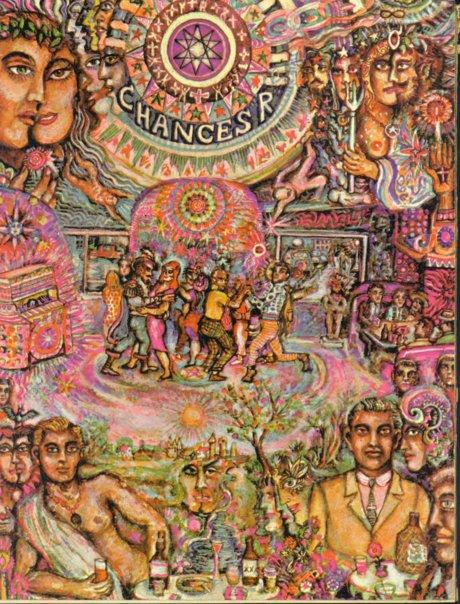 Chances "R" drawing by Robert Ronnie Branaman for Evergreen Review, No. 46, April 1967.
Robert Ronnie Branaman: "About chances R. it was just something Allen [Ginsberg] fixed me up with, plus i knew the place, saw it in its hay day, on one of my trips to Kansas from SF Cal. Susan and i had just goten married, Bruce Conner was my best man. anyway i lived in Gorda, Big Sur when i did the illustration and i think i was payed 300 dollars, a lot of money back then. Good thing about Ginsy he always passed monies around to those who need it, if he could." August 2009
From poem Chance "R" by Allen Ginsberg:



A line of painted boys snapping fingers

       & shaking thin Italian trouserlegs

                or rough dungarees on big asses

                          bumping and dipping


---

Also see: Monterey Dance Concert poster, by Robert Ronnie Branaman, July 1966 & San Francisco Oracle No. 9, backcover by Robert Ronnie Branaman, August 1967. More on artist Bruce Conner or Beat poet Allen Ginsberg.

---

Drawing © 1967-2009 Robert Branaman, used with permission, all rights reserved, page © 2009 George Laughead, maintainer, Beat Literature, Open Directory Project. Page posted: 01 September 2009. Hosted at WWW Virtual Library @ www.vlib.us.