ON BRUCE CONNER (may he rest in peace) AND ASSORTED KANSAN COHORTS
A Memorial and Memory Lane Meditation
by Daniel Abdal-Hayy Moore, 2008
---
Bruce Conner, November 18, 1933 - July 07, 2008
Photographs: Bruce Conner in 1950; with Dennis Hopper, at the opening of Hopper's and Conner's joint show, Paule Anglim Gallery, San Francisco, CA, 1996
---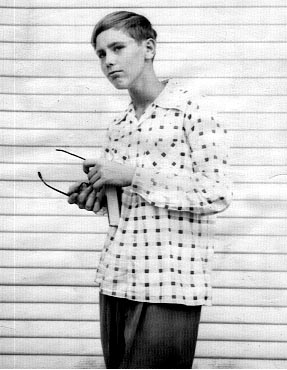 Bruce Conner was an enigma, to me at least, as a person and somewhat as an artist, but in the 60s in San Francisco, I was acquainted with a number of the Kansas artists, graphic and poetic, that made such an impact, sometimes in enigmatic ways, on the basic and pervasive artistic milieu, as well as giving the so-called "counter-culture" its, well... culture.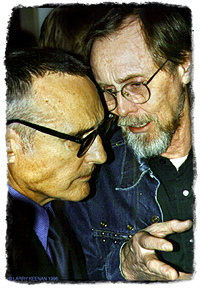 The list includes Conner, Michael McClure, a poet who had enormous presence, and who actually lived up one of the streets from the Haight-Ashbury district during its high heyday; David Haselwood, who with Andrew Hoyem was running the Auerhahn Press (with printer Glenn Todd, another Kansan), that published the major poets of the time and in editions that also ran some of the major artists (Bob LaVigne among them); Bob Branaman, prolific artist of comic-book-like epic mandala drawings in mural-like vertical space, and whose crammed ecstatic profusion of beings, nakedly human and otherwise, seemed to extrude from the darkest maw of creation; Charles Plymell, tough diamond-in-the-rough poet and wild man friend of the Beats and living on Gough Street at his crossroads apartment (and who published a group of the Kansan and Beat poets - and me - in a bright neon red or green chapbook called, modestly, NOW).
And then a handful of the "next generation" of poets (born around 1940, me on July 30th), including David Omer Bearden (www.davidbearden.com/index.html), not originally from Kansas (a Californian) but a student at the University in Tulsa, Napoleonic leader-like poet and critic of everyone else (he seemed to dislike my poetry, and insisted on calling Neal Cassady, who was also everywhere but not from Kansas, "Dean Moriarity" in public, to his annoyance, yet I think they became friends) (though I will admit I don't like my poetry from this period much either, so he was probably right... he didn't like its basically sunny, ecstatic nature, but I have to say that I never had a single "bad trip" in all those years), and I was very sad to learn that he has passed away; Alan Russo, a gentle soul (who took LSD one day in the country and wandered naked into someone's house suffering from thirst but was just able to say over and over the Latin word "Aqua" until they called the cops and had him hauled away); and J. Richard White, elegant almost Victorian and certainly romantic in his sensibility (and always it seems with wife troubles). Where are they now? Michael McClure is alive and well (I pray) in the hills of Oakland with his lovely artist/sculptor wife Amy Evans; Dave Haselwood, like Philip Whalen, became a serious Zen Buddhist and is now an ordained Zen bishop I believe along the California coast somewhere; I've heard of and seen a recent photo of Branaman (miraculously having reached elder status in spite of the amounts of drugs - especially Percodan - he ingested); Charley Plymell (www.hesterglock.com/words/cpbenzedrinehighway.htm) has also reached legendary elder Beat poet status, and a book of his collected poetry is available as well as memoirs and other writings. But the others I've lost touch with, though they may be orbiting in the mist somewhere as productive as ever, but less well known, by me at least.
All of these artists had a kind of American Gothic quality which I associated with the midwest Bible Belt ethos from Kansas - Wichita (of the famous Vortex), Tulsa, Kansas City, Lawrence, etc. and many were iconoclasts of the highest order, making high art as well by the inspiration of their visceral resistance plus a deep ocean of creativity that also had a private, enigmatic cast. The strength of their iconoclasm seemed to reach religious intensity, often true with the intellectually and poetically resentful, coming from a strictly "religious" (not necessarily spiritual) part of the world or country, and fleeing it and its influences as powerfully as possible - a manic reaction to the straight-laced and oppressive fire-and-brimstone midwest morality.
Conner was among them in this loose regional fraternity, contemporary with McClure and Haselwood, with whom I believe he grew up and attended school, and whose creations always disturbed, such as the combines he showed in the 60s made mostly of dripped brown wax and viscous looking goos that somehow shuddered us down to the soul. (I vividly recall Conner's exhibit of combines in San Francisco, both elegant and grotesque, dolls in gluey webs on high chairs, things enveloped in nylon stocking pulled tight and daubed with brown wax, all somehow evocative of a scream of despair, calling out for a human response.) But Conner also created a spiritually elevated art, such as those gloriously and spectacularly rendered mandalas (miraculous, actually - how did he do them? Well, while good and truly stoned no doubt...) one of which appeared in the San Francisco Oracle (I thought there were more, but checked on that huge Allen Cohen Oracle compendium and found only one, plus a magnificent Conner collage, though now I seem to remember a printed portfolio of a large series of these gorgeously complex and even-more complexified mandalas that I may have seen at McClure's house back then), and somehow tapped into what we were all psychedelically seeing at the time, each one vibrant with intricate light, inhabiting a pure universe of almost pre- or inter-form scintillation (that place between the fiat! of creation and actual manifestation, however you wish to theologize it).
His films were also impactful and artfully inartful, in the Stan Brakhagesque cinematic aesthetic of the time, with quick shots of almost nothing or a detail of something (often natural, often not) going past at high speeds, or collage-like images that make sudden meanings when juxtaposed, and whose only narrative would be supplied more by the viewer than the filmmaker (a film of Conner's on YouTube is an excellent example). His collaboration with Terry Riley, the ever-ecstatic master composer from California, with images of the atomic bomb blasts in his film Crossroads is exemplary in its timeliness and Conner seemed to find the Atomic bomb explosion an endlessly symbolic (and utterly realistic) consciousness-changer for his, ours and (should be) all later generations. And his film, Looking for Mushrooms, is filled with really gorgeous imagery in sync rhythmically with Terry Riley's music on keyboard and saxophone. This is all memory to me, however, and I have no knowledge of his more recent work, nor an entire overview, as I wasn't able to visit his more recent Art Retrospective, said to be such a vast range of work of all kinds as to be uncategorizable. This is my own personal experience from his (and the others') San Francisco work of the middle 60s.
Conner's presence was also very much of a piece in some way with his artwork. I rarely heard Conner speak (I was not in the inner Kansan circle, and hadn't grown up with him as McClure and Haselwood had, who both had enormous respect for Conner's art), but I often heard him play the harmonica, at Be-Ins, at Acid-Tests, which he seemed to do in lieu of speaking anyway, and was probably mostly stoned as well... but so were we all. Lanky, even slightly wraithlike then (lengthy illness apparently made him truly wraithlike in this last years), he seemed to be one of those souls who was kind of everywhere and nowhere at once, popping up almost comically, like Petrouchka, with a parallel poignancy.
McClure was, it seemed, the most "disciplined" of them all, writing his poems both on the run and in long hermit-like retreats in his house on the hill, and I lament his seeming neglect by today's literati, for he is a true innovator and inspired poet in the timeless Shellyan mold, especially with his explosive first Evergreen book, A New book/A Book of Torture, and those amazing Ghost Tantras (his getting the lions to roar with him in the San Francisco Zoo's Lion House while he chanted Ghost Tantras may be up there with Duchamp's Glass of the "Bride Stripped Bare by Her Bachelors Even"), as well as his more Mozart-like later imagistic nature-focused minuets, still filled with that now soberer (perhaps) but incisive energy. His latest Zen and haiku-like poems are also still velveted with an original "gothic" impulse, as well as being both Basho-like and truly transcendent.
Outsider (not New York exactly, not even quite San Francisco, though becoming West-Coastized by lengthy involvement -- even environmentally concerned - McClure's Poisened Wheat, etc. - and on the "scene" ubiquity as well as by that great visionary leveler: psychedelia), maverick and somehow invisible in a Burroughesian way, striking here and there and then disappearing, the Kansans (and now in memorializing Bruce Conner, God bless him, him in particular at this moment spotlighted), came out of the corn belt, the vast flatlands of America, and brought from weird and wonderful innermost depths a wry occult splendor to our art and to our lives.
(This is mostly off the top of my head, though with some "research" to amplify my aging memory, and I apologize for misrepresentations or factual errors, and would be open to any emendations. My own website: www.danielmoorepoetry.com/ , and poetry blog: www.ecstaticxchange.wordpress.com/, is available for "character reference.")
---
Daniel Abdal-Hayy Moore: Born in 1940 in Oakland, California, his first book of poems, Dawn Visions, was published by Lawrence Ferlinghetti of City Lights Books, San Francisco, in 1964, and the second, Burnt Heart /An Ode to the War Dead,in 1972. He became a Sufi Muslim in 1970, performed the Hajj in 1972, and has lived and traveled throughout Morocco, Spain, Algeria and Nigeria. He has been living in Philadelphia since 1990 with his wife and family. His books include: The Ramadan Sonnets, The Blind Beekeeper, Mars & Beyond, Laughing Buddha Weeping Sufi, Salt Prayers, Coattails of the Saint, Underwater Galaxies, The Music Space, etc. Full list on his website and blog. He continues to give many public readings during the year, often accompanying himself on specially tuned zithers.