http://www.vlib.us/medical/Coyle/CoyleTC.htm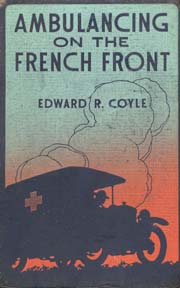 Illustrated
NEW YORK
BRITTON PUBLISHING COMPANY
Copyright, 1918
BRITTON PUBLISHING COMPANY, INC.
Made in U. S. A. All rights reserved.

Fig. 1. ON THE JOB, DAY AND NIGHT.
A picture of the author, one of the first Americans to serve as an ambulance man on the French front.

TO MY MOTHER
Whose parting gift was a miniature photograph of her own dear self upon which she had inscribed these words:

My only child who is given to the Cause of Liberty and Freedom. May God guide him safely so that he may help those who are unfortunate.
..................................His MOTHER'S PRAYER.

.

---
AUTHOR'S PREFACE
WHEN I went to France there was no thought in my mind that I should ever write a book on the subject of my experiences over there. On my return, however, many friends besieged me for details of the great war, which had come under my observation while serving in the Ambulance Corps on the French front. It was easy to infer from the eagerness of all that real news was in demand, none seeming to tire of asking questions and listening to what I had to say in reply. From these impromptu conversations occurring day after day, I began to realize how much I had really experienced during my. stay abroad. Consequently, when urged to write a book for the benefit of the general public, I consented on the theory that the more we Americans know about true conditions in the War Zone the surer we are to win victory from the most ruthless enemy ever known to mankind. I make no pretense of being a writer, but I know what I saw and I hope to make myself understood on the subject of war as it is to-day on the firing line. Much in the way of rumor has passed for fact in America. Propaganda has confused the public mind. The more fact that leaks through, not calculated to send aid and comfort to the foe, the better for all of us. In this, my first attempt at writing, and possibly my last, I intend to give facts. Matters that should not be disclosed for military reasons will, of course, be reserved for historians of another day.

EDWARD R. COYLE.
---
.
| | |
| --- | --- |
| | HOW I CAME TO GO |
| | AMBULANCE WORK . |
| | SANDRICOURT . |
| | MEDICAL CARE |
| | A LESSON I LEARNED |
| | A VISIT TO PARIS |
| | THE FRONT ... |
| | MASSING BEFORE VERDUN . |
| | THE SIEGE OF VERDUN . |
| | A VISIT TO BACCARAT . |
| | HOMELESS CHILDREN |
| | AFTERNOON TEA |
| | PETIT POST .. |
| | BADONVILLER THE MARTYR |
| | "SNIPERS" AT WORK |
| | "KAMERAD!" |
| | THE ART OF CAMOUFLAGE . |
| | SPIES AND THEIR WORK |
| | LETTERS FROM THE FRONT |
| | EYES OF THE ARMY . |
| | ANTI-AIRCRAFT BATTERIES |
| | HAND GRENADE WORK |
| | THE AMERICAN YMCA |
| | REAR-LINE DIVERSIONS |
| | "FOOD WILL WIN THE WAR" |
| | HOMEWARD BOUND . |
.
LIST OF ILLUSTRATIONS
| | |
| --- | --- |
| | Picture of Author |
| | A Quick Lunch at the Front |
| | First Aid Dug-Out---Waiting for a Call |
| | A French Gun Much Respected by Fritz |
| | German Sacrilege-Christ's Figure Decapitated |
| | Ruins of the Church Containing the Figures |
| | A "Load-up and Getaway"---Wounded for the Hospital |
| | The Bivouac Of the Dead |
| | Where the Souls of Men Are Calling |
| | The Wagon of Mercy Loading Up |
| | A Camouflage Road Made to Order |
| | A Natural Camouflage Road |
| | Bombing the Hun |
| | French Infantry Enroute to the Trenches |
| | Sacked and Burned |
| | Badonviller Destroyed by the Germans |
| | Sixty Feet From a German Front-Line Trench |
| | Trying on the Gas Masks |
| | Badonviller Barricaded for Street Fighting |
| | Awaiting Orders Behind the Front |
| | A Small "Persuader" at Verdun |
| | Field Telephone Station Controlling the Shell Fire |
| | Ruins Along the Lorraine Front |
---
Chapter One: How I came to go