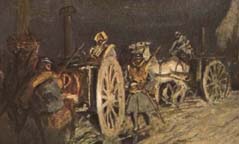 WWI Resource Centre
Great War WW1 history contributions by wwi-l List members
World War One articles & photographs
---

There is a question on what uniform is being worn in this photograph taken in Romania, pre-WWII. Click on photograph for huge version. Contact Marcus Poulin with any information at email address: nanophotonic@comcast.net
---
---
On the process of the clearance and burial of the remains of British soldiers from the Great War battlefields.
---

"Left to right, Jacques (Belgium), Diaz (Italy), Coolidge, Foch (France), Pershing, and Beatty (England) at his right" (from front of stereograph.)
On November 1, 1921, the main Allied military leaders spoke to a crowd of close to 200,000 at Liberty Memorial, Kansas City, MO. It was the only time that these leaders were together at one place.
From back of stereograph:
"Military heroes of World War at Kansas City. Rarely, indeed, has such a gathering of world famous men occurred as this assembled on the platform of the National Convention of the American Legion at Kansas City in 1921. Probably never again, will be brought together such a group of the great leaders of the World War. At this annual convention of America's most powerful veteran organization these men gathered from half a dozen nations to do honor to the United States for her mighty aid in bringing the most tremendous war in history to a victorious conclusion. Here is General Jacques, the leader, under King Albert, of the doughty little Belgian army which dared first to throw itself across the path of Germany's invading hosts. Here is the sagacious General Armando Diaz, who brought the Italian armies back to order and power of resistence after the disaster of Caporetto in the fall of 1917, and finally, 11 months later, hurled them forth like a thunderbolt and overwhelmed Austria in the most stupendous military disaster of all history, taking more than 300, 000 prisoners and 5,000 guns in ten days of fighting. Here Vice-President Coolidge; Admiral Sir David Beatty; General Pershing, wearing on his breast the Grand Cross of the Legion of Honor, the highest distinction which France could bestow upon him who in the Republic's darkest hours led America's eager armies to the battlefields where the tide of war was turned to victory for the Allied cause; and here, kindly of face stands Ferdinand Foch, Commander-in-chief of the armies of the Allies; he whose patient firmness held those vast forces to their hard task through the terrible spring and early summer of 1918 and whose intuition of genius correctly gauged the moment for the mighty counterstroke and the unceasing hammer blows which followed it until the enemy was brought to abject surrender."
---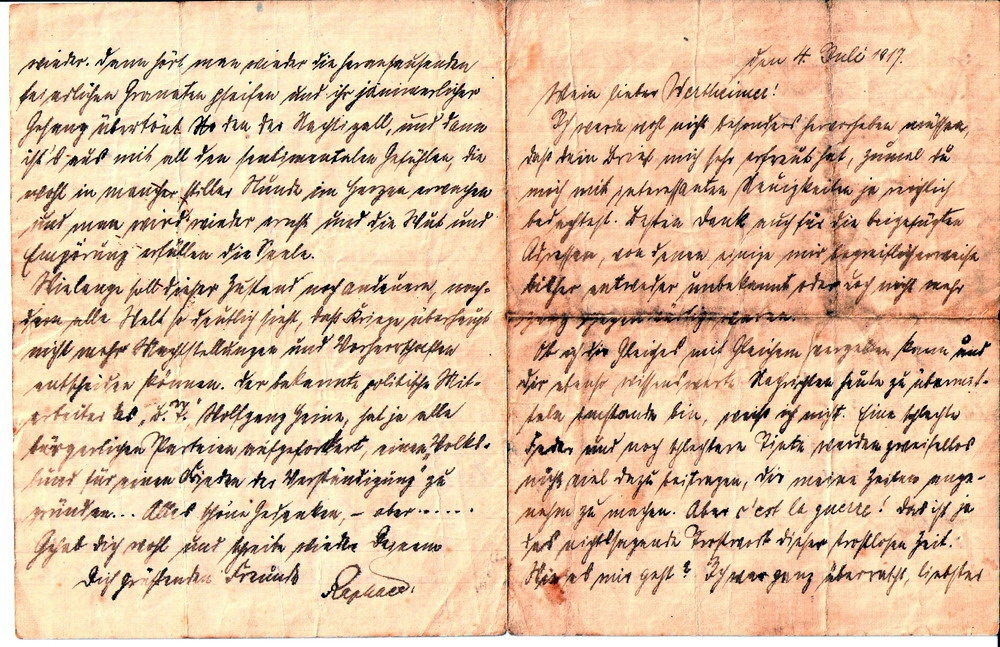 1917 letter by Jewish soldier
in German WWI army
Submitted by Zeev Raphael
---
Gas and Flame in Modern Warfare, by Major S.J.M. Auld, M.C., Member, British Military Mission to the United States, 1918: On gas warfare and the use of flamethrowers in WWISubmitted by Geoffrey Miller

---

My Mystery Ships, by Rear Admiral Gordon Campbell, VC., DSO, on submarines and how to hide ships from them in WWISubmitted by Geoffrey Miller


---

---

---

Liberty Memorial Photographs of unique US WWI tribute, the only place all the main Allied military leaders were together at one time

---

---

---

Trench Catapault, as used in 1915 to throw bombs, and they have the advantage that they can project these missiles at a greater distance than is possible by hand.

---

"Human Statue of Liberty"Submitted by Melanie Bielowicz Cooke

18,000 Officers and Men, Camp Dodge, Iowa

---

Submitted by Dr. Geoffrey Miller




This account of life in a 1914 German U-Boat was written by Johannes Speiss, First Watch Officer of the early kerosine powered submarine U9, captained by Otto Weddigen. The use of kerosine gave off a large amount of smoke and necessitated the use of a demountable funnel, this funnel was not required in later Diesel powered submarines.

Go to: more on U-Boat U9

---

images:

May 15, 2007, (Submitted by Jim Broshot)

Plaque in the Iron County Courthouse, Ironton, Missouri:

---

texts:

May 14, 2007, (Submitted by Matt Clark)

TEILHARD DE CHARDIN'S

LA NOSTALGIE DU FRONT

Introduced and translated by LANAYRE DE LIGGERA
(with thanks to Yves Buffetaut and Claude-Noelle Peabody)

Some years ago I came across a reference to La Nostagie du Front, an essay by the once controversial French Jesuit anthropologist/ geologist/paleontologist Fr. Pierre Teilhard de Chardin. The article I had glanced through told me that the essay had been written while he was a stretcher bearer during the Great War.

Chardin in uniform: during Great War.
(Teilhard De Chardin Foundation, Paris}



Go to: Teilhard De Chardin Essay on WWI: La Nostalgie Du Front

---